Carlos Curbelo support for Hillary Clinton is no surprise
Posted by Admin on Mar 25, 2016 | 0 comments
Why is everybody so shocked that U.S. Rep. Carlos Curbelo said he would vote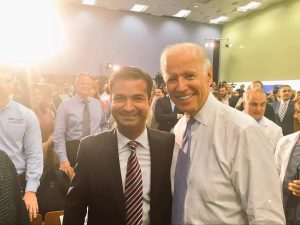 for Hillary Clinton over Donald Trump? Ladra is not surprised.
No, it is not because there are a bunch of other Republicans who are casting protest #NeverTrump votes for that evil woman they can't stand to even look at. Yes, it's happening, loyalists. Shudder and wince all you want. This year will be record breaking for the number of Republican registered voters who will vote for the Democrat.
Read related story: Some say 'Bye Marco, Hello Hillary' because #NeverTrump 
But, no, that's not it. Ladra is not surprised because Carlos Curbelo has always been a Democrat in disguise.
We wrote about it back last fall after he practically begged to go on Air Force One with President Barack Obama and later posed all giddy with Vice President Joe Biden. The Rino has crossed the aisle to vote possibly more than any other Republican. He has the support of several local Democrats like Florida City Mayor Otis Wallace.
And remember how giddy he got supporting former Gov. Charlie Crist, who had been a Democrat five minutes earlier, against Sen. Marco Rubio?
How far a stretch could it be for him to vote with the Democrats on Election Day?
In fact, the only thing that's really weird about it is that, well, if he believes his own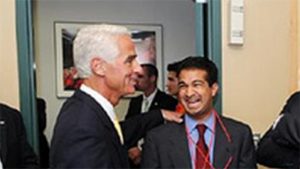 conspiracy theory about Trump only being in the race to help Hillary, he has now fallen for the trick.
This all came to light after CBS4's Jim DeFede caught a glimpse of a post on a Key West woman's Facebook page in which she said Curbelo, who she took a selfie with, told her he would vote for La Clinton.
Of course, he didn't readily admit that to DeFede on Thursday when the reporter asked him. He hemmed ad hawed and said both Hillary and Donald are "very flawed candidates" that the majority of Americans do not like.
Read related story: Is Carlos Curbelo a Democrat in disguise?
By Friday, he was back-pedaling a little bit.
"I have no intention of supporting either of them for president of United States," he said on Fernand Amandi's radio show on WIOD 610 AM.
Maybe Curbelo, who is facing hardly a primary challenge from Jose Peixoto — who has spent all the $27,600 he mustered up, mostly his own money — was looking ahead to the general when he has to appeal to Democrats and Independents if he hopes to defend his seat in a rematch against former Congressman Joe Garcia, who, funny enough, has been trying to tie Curbelo to Trump.
"I know Curbelo tweets he opposes Trump, but we need a congressman who also opposes Trump's vision, and votes that way," Garcia said in a statement released earlier this month with a table graphic that shows the Crybaby's similarities to Trump.
Ooooooooooooh. Is that what happened?
Joe Garcia tries to smear Curbelo with The Donald's stink, and this is how Curbelo reacts? By promoting Hillary?