Cindy Lerner confronts Rubio, Bush on climate change
Posted by Admin on Feb 10, 2016 | 0 comments
Pinecrest Mayor Cindy Lerner went to New Hampshire last week to personally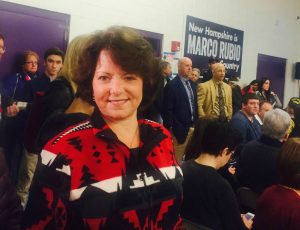 deliver a letter signed by her and 14 other mayors in Miami-Dade regarding climate change and the federal response to both Marco Rubio and Jeb Bush.
Lerner, a deep blue Democrat who served in the Florida House with Rubio, told each of them at separate events that she hoped they would meet with her and the other mayors before the Florida primary March 15.
"We appreciate that you acknowledge the reality of what we are experiencing in South Florida, being ground zero," she told Bush at a town hall meeting, in what sounds like a dig at Rubio for his more exreme denial position.
She asked both to look at the impact the fossil fuel industry has on global warming and explore renewable energy sources.
Read related story: Miami-Dade 2015 budget rally is for climate change funds
Bush, who once lived in Pinecrest, told her he "would love to meet you. But I'm not coming back for a couple of weeks."
And of course there's already a "but." He is in a Republican primary after all.
"You can't destroy our economy in recognition of that," Bush said, adding that all the taxing solutions would just be passed on to the consumer. "We  have to balance our economic interests with this legitimate concern that the climate is changing…the federal government should play a role in research ad development to find the next source of energy that would have less impact on the climate."
Senator Rubio was a little less enthusiastic when he also agreed to meet with these mayors during a campaign event last Thursday — responding "sure" to the surprise invitation.
"But I can tell you right now I'm not going to destroy our economy. The climate has never stayed the same. It's always changing," Rubio said.
He said that scientists don't expect the proposed measures to make changes in sea level rise or the dropping temperatures for years and years to come but that economists say they will make things more expensive and put us at a disadvantage economically.
"I can't support something that does nothing to help the environment but devastates our economy," Rubio said.
Read related story: Top 10 reasons Miami-Dade residents must buy a life vest
He said he would instead favor measures that rewarded and increased the use of alternatives to fossil fuels.
"Let's beat the world in every energy resource. Let's beat the world in wind, in solar, in bio fuels, in renewables. But we are going to fully utilize our natural gas, which by the way is a clean source of energy. Let's build more nuclear power plants."
Lerner — who is arguably Miami-Dade's lead sea level action champion — came home satisfied that both presidential hopefuls had heard her out and agreed to meet. Both encounters can be found on YouTube, published by ClimateTruth.org, which sponsored Lerner's trip and has collected a number of videos of people confronting the candidates on the issue.
"With Jeb I was really pleasantly surprised because not only did he acknowledge climate change, he also said he would support eliminating subsidies on oil products," Lerner said. "He has a much more moderate position.
"Rubio launched into his rote response," she added, echoing earlier sentiments about the senator's need for new material (Ladra told Team Marco months ago). "But I know he knows better."
But she certainly isn't going to vote for either of them. Lerner spent the rest of her time in New Hampshire making phone calls from two campaign offices and walking door-to-door in Bedford for Hillary Clinton.