Daisy Black's sudden death shocks friends, community
Posted by Admin on Jun 30, 2016 | 0 comments
Death leaves Miami-Dade Commissioner Audrey Edmonson, now unopposed, with four more years
Miami-Dade Commissioner Audrey Edmonson has been de facto re-elected this week after her sole challenger,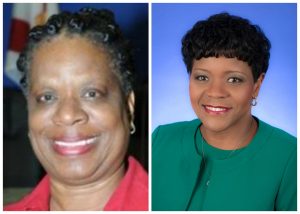 former El Portal Mayor Daisy Black — and Edmonson's longtime nemesis — died suddenly and unexpectedly Wednesday.
Details on the cause of death were still unknown Thursday, but Black was rushed to the Hialeah Hospital after she collapsed Wednesday during a typical candidate screening with the AFL-CIO union. According to sources and published reports, an off-duty firefighter at the screening performed CPR. She apparently died later that day.
Black, 68, had challenged Edmonson in what was going to be one of two interesting commission races (the other one is District 11 in West Dade where former Commissioner Joe Martinez has challenged Commissioner Juan Zapata).
Read related story: Three county commissioners coast, but four draw challengers
Edmonson, who joins the other three commissioner re-elected sans opposition, issued a statement Thursday that shows their tense relationship was not as important as Black's many contributions to the community and dedicated activism.
"It is with a heart full of sadness that I share in the collective shock of this community as we begin the process of accepting the passing of the Honorable Daisy Black, former Mayor of the Village of El Portal," said Edmonson. "My continuous prayers are with her beloved family and friends. Daisy, a true public servant and dedicated elected official, will be missed by so many.  Her family and friends need our support and understanding and their privacy to reflect on their memories of one of South Florida's finest civil rights leaders."
Sen. Dwight Bullard, chairman of the Miami-Dade Democratic Party, posted a statement on Facebook: "Today the candle went out on the life of a woman that has inspired myself and countless others. Mayor Daisy Black was an incredible leader and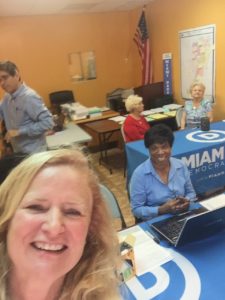 fixture in the Democratic Party. She made Miami-Dade County a better place to live by her mere presence and will be so missed by me and those who were blessed to know her. Please lift her family up in prayer."
Her own Facebook page was quickly filled with photos and posts from shocked friends, other electeds and candidates and activists.
"I count myself blessed to have known you, Mayor Daisy Black," wrote Darren Martin. "You were amongst the few mentors I had at the Miami-Dade DEC and, while you always had an open ear as I told you about my big dreams and wanting to one day work at the DNC or the White House, you constantly reminded me of the importance of being active in the local party and being an advocate for Miami – and, more importanty, the people who lived there. They sure lost a giant today – and we all lost a friend."
"I am devastated! Heart Broken," wrote Daniel Sohn, a non-profit consultant running for mayor of Dania Beach. "My good friend Mayor Daisy Black (MORE LIKE FAMILY) passed away doing what she did best- Serving her community… Daisy was the first elected official to endorse me when I announced my race for Mayor in Dania Beach and the first person to write a check. For that reason I called her "MY MAYOR"… Daisy taught me how to fundraise. Since then, I've gotten much better at it. She told me she loved me many a time and I her! Although she touched many lives across the state, we here in South Florida were the luckiest to live among her. Her presence made everything better…Daisy would have wanted all of us to unite during election season. I think it's time we did.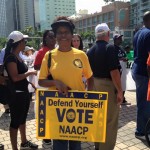 I will miss her greatly and hope once elected to be as half the leader and caring human she was."
"My heart goes out to the family of 'Mayor' Daisy Black," wrote Desmond Meade. "I along with countless others greatly benefited from her wisdom, presence, and support. She was an ardent supporter of our efforts to restore voting rights, and a champion for human right and dignity. As she was a fierce advocate for others, I will sorely miss her and her contagious smile. RIP Daisy. You left your mark on this earth."
A 2008 field organizer for Barrack Obama in Liberty City also wrote on her wall. "One of the first people to approach me about helping get an office was Daisy Black," said Karen Andre. "She organized with me in the back of the McDonalds on 62nd St until we finally got an office. On that day, I handed her the keys to open the office doors. From August 2008, until Election Day, Daisy was there EVERY SINGLE DAY for 4 months. She did Voter Reg, phone banking, data entry, volunteer training, GOTV, mo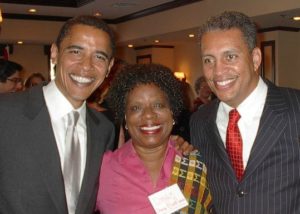 deling wisdom and dedication, the whole time. I couldn't have made it without her and I count myself blessed to have her guiding me. Her legacy of selfless devotion to the community is undeniable. Just this year, she gave up her chance to be a delegate at the Dem convention so that a young person could go. That's the essence of Daisy, paving the way for others. May you rest in eternal peace knowing you were a good and faithful servant."
From former Hialeah Councilwoman Carmen Caldwell, director of Miami-Dade's Crime Watch: "Our thoughts and prayers to the family of Mayor Daisy Black, she was a true champion and a supporter of Neighborhood Watch in her City. She truly made a difference in El Portal. It was such a pleasure working with her all these years. She will be missed tremendously. Rest in peace my friend."
Miami-Dade Community Council Member Johnny Farias called her his political godmother. "I will miss you so much. You were and will always be an inspiration to me. I was honored to know you and have you as a close friend. And I thank God that on Saturday I was able to hug and talk with you. You told me how proud I made you for winning the Council Elect Seat 15. You were loved by many and will be missed dearly, RIP Daisy."
"We sat together two days ago at a candidate event," wrote Daisy Baez, who is running for state House in District 114. "Once again we joked about picking up the wrong name tag at events because of our similar names! You were the first elected official to reach out to me and to attend my first fundraising event. I will never forget that. See you again some day."
RIP Daisy Black. You made political life in the 305 more interesting, apparently, for everybody. We are sorry to see you go too soon.