David Rivera turns in petitions for state House run
Posted by Admin on Jun 8, 2016 | 0 comments
Apparently, he is serious.
Former Congressman David Rivera, old "King Nine Lives" himself, is really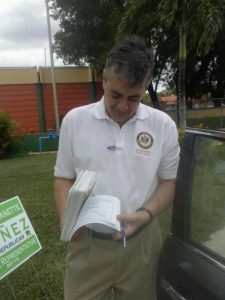 running for the seat in State House district 118, vacated by Rep. Frank Artiles' dash to a Senate race (more on that later). On Monday, Rivera turned in signatures to qualify by petition. The Florida Division of Elections allows candidates to qualify by petition rather than pay the $1,781 fee. Rivera needed to have 1% of the 90,371 registered voters — or 904 signatures. The Elections Division verified he had 955 Monday.
Qualifying for state legislative seats is not until June 20 through the 24th. But, by law, the Florida Division of Elections can accept and hold qualifying papers beginning Jnne 6. Rivera turned the signatures in on the very first day he could.
"Qualifying by petition is a strong sign of voter support," Rivera told Ladra on Tuesday. "Plus, it shows that no one will outwork me in this election."
Read related story: David Rivera collects signatures for 2016 House run
Some malas lenguas believed Rivera was faking the petition drive he started in 2014 — to shake off investigators who can't seem to indict or arrest him on any charges. Well, maybe.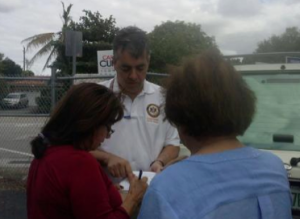 Because I think he had to go back to those people or get new Hancocks after he filed his campaign account information in March.
The newly drawn district overlaps quite a bit with his former congressional district, now held by U.S. Rep. Carlos Curbelo, and maybe a little with the district Rivera last served in the Florida House from 2003 to 2011.
It also overlaps with parts of the county commission district that former Miami-Dade Commissioner Lynda Bell represented at the county and also as Homestead mayor. Bell, who was the first incumbent to be beaten in decades when Daniella Levine-Cava whooped her in 2014 — has also filed account documents to run for House District 118. But she has not turned in any petition signatures.
Read related story: Levine-Cava gets to work while Lynda Bell finishes term
There are two other Republicans crowding that primary. Anthony Rodriguez seems to be Artiles' handpicked successor — if it weren't for Rivera — and Steven Anthony Rojas Tallon, whose anglo-Hispanic name is too long for the ballot, I am sure. Both have been campaigning since at least February, but Rodriguez has raised $17,000 compared to Rojas $2,450.
Still, most campaign observers say this will be a two-person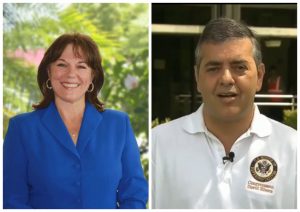 race between the two recycled politicos, each with their own baggage. Bell has her battles with labor, her right-to-life badge of honor and her attempts to help her family's chain link fencing company through county legislation. And ol' Nine Lives gets his name because he keeps dodging investigations into his campaign financing and tactics, which include the alleged financing of a 2012 Democratic ringer. Nothing ever sticks, and you want to believe it's a government conspiracy.
Maybe it's a devil-you-know thing, but they are the two everyone is watching.
Bell raised almost $15,000 in her first month, at least a third of which came from her political sugar daddy, developer Wayne Rosen.
Rivera raised almost five times that, with $71,000 collected in donations in March and April. The Division of Elections did not have his May report online.
But why am I not surprised?