Doral leaders seek input on master plan for city parks
Posted by Admin on Feb 11, 2016 | 0 comments
Doral leaders are getting ready to update their master plan for the young Northwest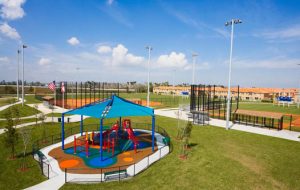 city's parks system and is seeking more public input about what residents want.
The city — which conducted a survey last Fall — had two public meetings on Wednesday. Two more public meetings are planned for today, Thursday. The first is from 6 to 7 p.m. at City Hall, 8401 SW 53rd Terr. And the second is from 8 to 9 p.m. at Windward at Islands of Doral, 11485 NW 77th Lane.
Officials are looking for feedback on current facilities and programs as well as what residents want in equipment, green space and/or sports and recreation programs.
Doral currently has a pretty robust program at its six city parks. They are also planning an aquatic facility with a lazy river, water tot lot, Olympic sized pool, slides and "funbrellas."