FIU student prez, county mayor keep pushing to evict Fair
Posted by Admin on Mar 10, 2016 | 0 comments
Just as the Dade County Youth Fair is set to start its annual three-week carnival on March 17, FIU has a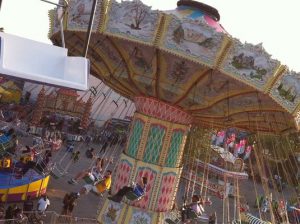 new champion for it's delayed and struggling plans to expand onto property currently occupied in a rock solid lease by the Dade County Youth Fair and Expo: The student government president at the Tamiami Campus.
Alexis Calatayud, a senior political science major in the Green School of International and Public Affairs, has started a petition at Change.org, asking Miami-Dade Mayor Carlos Gimenez and members of the county commission to support the expansion of Modesto Maidique Campus to adjacent county lands.
Calatayud says she wants students to understand the importance of the expansion for them, future students and the South Florida community. But she did not return emails from Ladra and the language reads like she got help from some of the university's PR staff:
"Dear Panthers,

On a November 2014 referendum, the Miami-Dade community demonstrated support for FIU's expansion onto the land adjacent to the Modesto A. Maidique Campus by voting "Yes."

Now, more than a year later, it is imperative that we move forward with the plan to find the Fair a new home.

I am an example of the impact FIU has on South Florida. As a Miami native, FIU has allowed me to stay close to home while providing me with countless leadership opportunities.  FIU has given me invaluable tools to pursue a successful career and I will graduate with no debt. Other members of my family also have made the most of their FIU educations – my mother and brother are all FIU alumni.

FIU gives similar opportunities to thousands every year – we have 55,000 students and 200,000 alumni. These are our community's leaders, engineers, doctors and entrepreneurs. FIU educates our community's top teachers, employs thousands, and is helping to transform Miami into a cultural hub.

FIU's success is our community's success. FIU's expansion would mean more and better jobs and educational opportunities.

As president of the FIU Student Government Association, I invite you to join me in asking Mayor Carlos A. Gimenez and members of the County Commission to please take action. Some 30 sites have been studied and the South Dade site really works. Relocating the Fair to South Dade is good for FIU and is good for the South Dade community, which has already expressed support and excitement about bringing the fair to their area."
But it's not good for The Fair, say the Dade County Fair and Expo folks. Fair CEO Robert Hohenstein has already said that the South Dade — a county-owned property near the Homestead Air Reserve Base right off the Florida Turnpike and 272nd Street — is a no go.
Read related story: FIU's bully battle vs. Youth Fair keeps costing us plenty
In a recent letter to the editor published in the South Dade Newsleader, he chided local electeds for falling for FIU's trick — which is to build pressure on the county to break the rock solid lease and evict The Fair.
"FIU is free to spend its money as it deems fit, and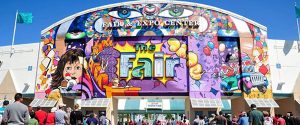 a major investment in South Dade would be welcomed news for the area. But the plan is based on a false premise – that The Youth Fair is a willing participant. A move to South Dade would be corporate suicide for The Youth Fair and its exposition business, a fact FIU knows very well, since it co-sponsored and co-paid for an economic study that showed the financial devastation The Youth Fair would suffer in South Dade. FIU also knows the board of the Miami-Dade County Fair & Exposition Inc. twice voted unanimously against such a move," Hohenstein said.
"It is shameful that FIU persists in promoting the false plan.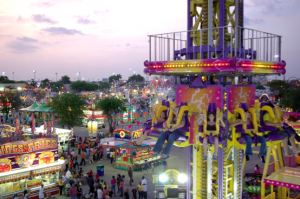 And it is disheartening to realize that city commissions such as in Homestead and Florida City are falling prey to this ruse whose only purpose is to pressure Miami-Dade County into The Youth Fair from Tamiami Park so FIU can take over the land."
An email blast sent last week has this headline:"Moving to Homestead? No." And follows up with: "Don't be fooled by the rhetoric from FIU about the Youth Fair's future."
The email says the South Dade site would cut revenue by $3.2 million a year and ultimately shut down The Fair.
So why is everyone honed in on this location? Who owns property nearby? Because Ladra believes the county is getting ready to present their case to a judge and position this property as an equal to the one that the Fair now occupies, which is required by the lease.
Read related story: Carlos Gimenez 'I'd break The Fair's lease if FIU pays'
It's the only one of 26 possible sites that Mayor Gimenez gave details on in his Feb. 17 letter to Gov. Rick Scott, asking for state funding in this year's budget (our public money) for FIU's expansion dreams — even though there is no agreement for a relocation yet.
"The funding is essential to making FIU's expansion possible and I am as determined as ever to bring this project to conclusion," Gimenez wrote. Shouldn't his asks be for some county needs instead?
And does that mean he is going to kick The Fair out and let them take him to court? Gimenez has asked FIU to guarantee they would pay the legal costs of any court fight. Is he trying to get them state funds for that?
Ladra has an idea. Why doesn't the county give FIU that South Dade land for a satellite campus? Wouldn't it better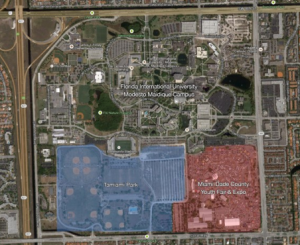 serve the community in South Dade — which the mayor constantly ignores — to have the school there? Classes closer to home for many South Dade youth. Jobs in an area that needs them.
Gimenez said in his letter to Scott that the project is "so critically important to increasing educational opportunities and economic development for our state." But wouldn't it be better for increasing educational opportunities and providing economic development if the expansion were in South Dade?
Why is nobody asking that question?
My favorite part of the letter to Gov. Scott is where Gimenez lies yet again about the 2014 referendum in which voters simply gave FIU the same waiver of use on park land IF AND WHEN they ever expanded to the fairgrounds. He actually says that he is committed to "working cooperatively and creatively with FIU and The Fair on a site solution that addresses the needs of all parties, and ensures that we fulfill the terms of the November 2014 referendum."
That was the whole reasoning behind the ballot question, which was obviously premature since there is no move or relocation plan on the horizon.
It's too bad that the mayor takes these very same voters and ignores them when it comes to the referendum for the Pets' Trust Initiative.