In battle to keep Senate seat 40, Dems eye Ana Rivas Logan
Posted by Admin on Mar 24, 2016 | 0 comments
We all know that Frank Artiles plans to run for the Senate against incumbent Dwight Bullard.
The question is "Why?" He has another term in the House left so why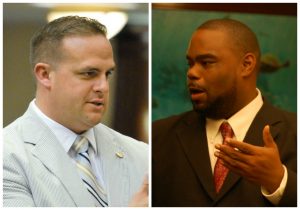 would he risk a sure thing for a seat that that went to President Barack Obama by 7 points in 2012?
Well, because redistricted seat 40 may be more Democrat, bu it is also waaaaay more Hispanic, with a 74 percent Latino vote pool. And it includes a little of the area once represented by Sen. Anitere Flores, who promised to move after she and Bullard were drawn into the same district and will instead run for a newly created open seat (District 39; because the numbers play musical chairs, too).
That's why former State Rep. Ana Rivas Logan was in Tallahassee last month, talking to folks about running in that seat against Artiles. Bullard knows he's vulnerable. Several sources confirmed that Bullard has been approached about stepping down and letting Rivas Logan take on Artiles. And they all say he same thing: He has an emotional attachment to the seat, which belonged to his mother, the late Sen. Larcenia Bullard, who died in 2013. He sort of inherited her seat in 2012 (though he beat off four other Dems, including former State Reps. Ron Saunders and James Bush, III) like he inherited his dad's House seat before that.
It's a pride thing. And it could become a black thing. His has been an African American legislative seat at least since 2002, only one of two black Senate seats in the 305.
Bullard, who replaced Annette Taddeo as chair of the Miami-Dade Democratic Party, might think he has a good chance to defend himself in a district that voted last time for
Obama by 54 percent. But Obama is not on the ballot this year and black voters may not turn out as heavily for Hillary. Everyone is worried about that. And half of the district's Democrat voters are Hispanics anyway. Artiles could peel some off there. Most likely, however, he'll grab a bunch of the Hispanic independents, enough to make a difference.
The newly redistricted seat represents South Miami Heights, West Perrine, Richmond Heights, Fairway Heights, Howard, Country Walk and West Kendall. It also includes portions of the Westchester, Cutler Bay, South Miami and Coral Gables.
There's also this: Artiles won his old district (which used to be Bullard's old House district) which went to Obama with 51% in 2012, by double digits against a Democrat in 2014 — albeit a Democrat nobody and on an off, non-presidential year. But Gov. Rick Scott only got 49 percent of the vote there, so Artiles got 8 percent more votes than the Republican at the top of the ticket.
Trust me, Artiles did not give up his likely re-election to the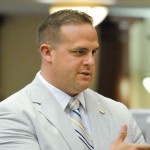 House for his last term with full tenure if he didn't have a poll that shows what consultants call a path to victory for a coveted Senate seat.
He has also shown a better knack for raising campaign funds, accumulating a total of almost $800,000 between his campaign and his PAC, Veterans for Conservative Principles, since 2012. Bullard raised $85,000 for his 2012 race.
Is defending the Bullard legacy worth the risk of losing a Democratic seat in the Senate? Especially against Magilla Gorilla? A man who is best known for punching a college kid in the face, pushing a law that regulates bathroom use and living outside his district? That's what state party leaders are grappling with.
Rivas Logan told Ladra that yes, she had, indeed been in Tally last month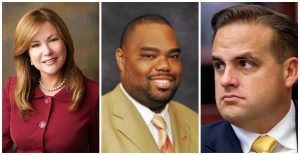 talking to interested parties (read: the Democratic Party) about running again, but she said there were a number of seats discussed — and for both 2016 and 2018, which is conveniently when she retires as assistant principal at Robert Morgan Technical High, where she prepares seniors for college and life after high school.
"All the pieces line up for me in 2018," said the one-time Miami-Dade School Board member, coyly leaving the door open for Bullard to bail: "However, should something become available that is a good fit, I would seriously consider it."
There it is. She's just waiting for Dwight to make a difficult decision.
Meanwhile, the party keeps grooming her for something. That's why you see Rivas Logan commenting on immigration policy on MSNBC and Spanish-language TV or why she delivered a message to the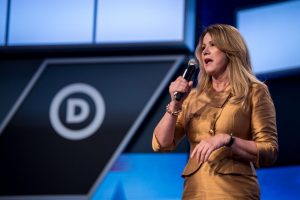 audience at the Democratic debate at Miami-Dade earlier this month. That choice — she spoke right after Florida Democrati Party Chair Allison Tant and before DNC Chairwoman Debbie Wasserman Schultz — says something about their confidence in and hope for her, because she's really only been a Democrat for about five minutes.
Last time, Rivas Logan held office, she was a Republican House rep. But a falling out over immigration policy and the fact that the party went with State Rep. Jose Felix Diaz against her when they were drawn into the same district sort of put the ice on that.
Wouldn't it be just so Florida and like the 305 if Diaz, who is termed out next cycle, faced Rivas Logan again in a 2018 Senate race?
I said it first.