Joe Garcia gives up ballot for lobby gig
Posted by Admin on Oct 11, 2017 | 0 comments
Former Congressman Joe Garcia, who lost his seat to Rep. Carlos Curbelo first in 2014 and again in last year's bid to regain it, has joined his former campaign consultant, Juan Peñalosa, at the the mostly Democrat consulting and lobbying firm Mercury LLC, which will open an office in Miami.
Garcia's addition as co-chairman of Mercury was announced Wednesday. He is tasked with expanding the new Miami team and the firm's reach in Florida, across the country and south of the border.
Read related story: Joe Garcia releases first web ad in congressional contest
Which means he won't have time to run against Curbelo or anyone else in 2018. "It's pretty certain that I won't be on the ballot next year," Garcia told Ladra Wednesday morning, adding that he was excited abut this new venture in government and public affairs, which is nothing ne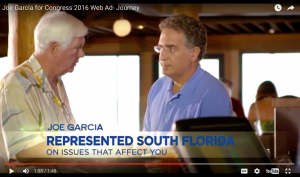 w to him.
"I've been in public service all my life and when this opportunity came along, it was perfect. I'm working with people I highly respect and I've known for a better part of a decade," Garcia said, referring not only to Peñalosa but also Mercury Partner Ashley Walker, who he worked on the Obama for America campaign.
Said Walker: "We are excited to welcome Joe Garcia to the Mercury family. His extensive policy experience will be invaluable as we expand our footprint in Miami, and across the Sunshine State."
During his time in Congress, Garcia, an attorney, served on the House Judiciary Committee — which is where he was caught on a C-SPAN camera in 2014 eating his own ear wax — where he was on the Subcommittee on Immigration Policy and Border Security, and the Subcommittee on Regulatory Reform, Commercial and Antitrust Law. He was also a member of the Committee on Natural Resources, including its Subcommittee on Energy and Mineral Resources; Subcommittee on Fisheries, Wildlife, Oceans and Insular Affairs; and Subcommittee on Public Lands and Environmental Regulation.
Read related story: New Joe Garcia ear wax footage — great TV, bad PR
Prior to being elected, Garcia was appointed in 2009 by President Barack Obama to the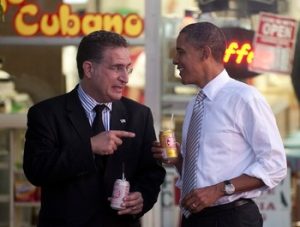 Department of Energy as Director of the Office of Economic Impact and Diversity. Garcia is also former Chairman and member of the Florida Public Service Commission. Before that, he served as board member and Executive Director of the Cuban American National Foundation, and is credited with the group's softened stance on Cuba policy.
"We are pleased to welcome Congressman Garcia to the Mercury team. His extensive policy experience in the energy and utility sectors, as well as his deep relationships in Washington, will be a tremendous asset to our clients," said Mercury Co-founder and CEO, Kieran Mahoney.
The job also gives Garcia an opportunity to work on the same issues that he held near and dear in D.C. — like immigration (where he is right) and the U.S.-Cuba relations and policy (where he is wrong). Garcia is attending a Haitian activists' event Wednesday night to advocate for the expansion of Temporary Protected Status. And he wants to also preserve the Obama administration's Cuba policy.
In addition to growing Mercury's Miami and Florida presence, Garcia said he will be paying attention to issues and campaigns in Latin America, "which is playing a bigger role in local politics."
Will he ever be on a ballot again? Ladra says probably.
"Public service is a calling. And I love doing it."