Joe Garcia releases first web ad in congressional contest
Posted by Admin on Jun 21, 2016 | 0 comments
Former Congressman Joe Garcia, who wants his job back in Washington,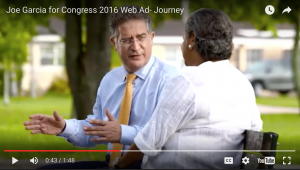 is talking all over the internet today about his track record and his connection to the residents District 26.
"Hi. I'm Joe Garcia. You know, a few years ago we began a journey together, a journey to bring the voice of South Florida to Washington," Garcia starts with the almost two-minute message. "We were successful on so many issues, whether it was trying to fix our immigration system, lowering interest rates for college students, fighting increases on our flood insurance."
He also takes a swipe at U.S. Rep. Carlos Curbelo, who beat him two years ago amid headlines about absentee ballot fraud by his campaign manager, who ended up sentenced to 90 days.
Read related story: Miami GOP draws first blood on Joe Garcia in FL26
"One of the things we tried to do when we were in Washington, was make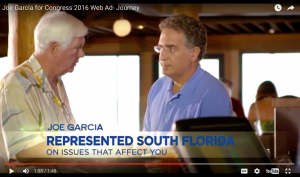 sure you knew exactly where I stood on issues of importance… Today, we have a representative that says one thing in South Florida and does completely the opposite in Washington — on women's healthcare issues, the environment, global warming, gun control or investing in our families," Garcia says without naming Crybaby.
"On each and every one of these issues, the republicans have let our community down. Like you, I love this community… And I want to go back to making sure we have a voice in the important issues of our day. I'm asking for your help."
Read related story: Joe Garcia goes from zero to hero in 60 seconds
Um, but what about August? Is he's ignoring the primary opponent, Annette Taddeo?
"People in the district know Joe. They have voted for him in several elections," said Javier Hernandez. "We are focused on speaking on the issues ignored by Carlos Curbelo. That is our aim in this election."
Which is a long way of saying yes. Which is what you do when polls show you have a 25 point lead or so ahead of your primary opponent.
Garcia may be the first to release a web video in this race. Digital advertising is growing and while some consultants will tell us that it can never replace direct mail, more and more candidates are using them because it is not only cheaper, but the way to connect to voters on a platform voters feel comfortable in.
Web ads also offer more time for candidates to tell their story and make their pitch. Garcia's first web ad features photos of him as a child, as a young parent with his daughter on his shoulders and a black and white of his grandfather.
Hernandez said it was too early to tell if it would be aired on television as well.
"Our strategy adopts new forms of media as well as old and we want to get Joe ties to the community and his track record out to everyone," Hernandez said. "This is just a first step."