Joe Martinez mulls county challenge to Juan Zapata
Posted by Admin on Apr 11, 2016 | 0 comments
Former Miami-Dade Commission Chairman Joe Martinez may jump into his third race since leaving office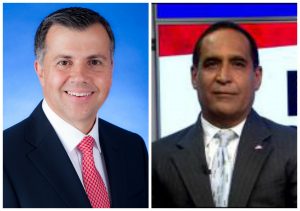 to run for mayor unsuccessfully in 2012. And, no, he's not running for Congress again.
Martinez wants his old job back. He is seriously considering a run against Commissioner Juan Zapata for his old District 11 seat.
"I have it under very, very strong consideration," Martinez told Ladra. "I've spoken to a few people. There's a lot of disconnect between the current commissioner and the people."
Several sources told Ladra that Martinez is being egged on by Miami-Dade Mayor Carlos Gimenez, who has been at odds with Zapata, his biggest budget critic, almost since the commissioner was elected. The support, they said, would be quiet and include financial backing.
Martinez laughed off the notion that his former foe would reach out to him.
"It's not something that… I won't tell him no. But that hasn't happened," Martinez said.
It's plausible. Martinez never really attacked Gimenez in 2012, though he could have gone negative with the absentee ballot fraud that was caught in his Hialeah campaign office. Up until late last year, he was considering a rematch. And everybody knows that Gimenez would love nothing more than to say "Bye Felicia" to Zapata.
Read related story: Joe Martinez hints at 2016 rematch with Carlos Gimenez
Martinez said he had not been approached by any Gimenez operatives to run but had been encouraged by a number of other people. "A lot of people talk to me as if I'm the commissioner still."
He said he had also been told about a poll that asked voters if they would change their mind about voting for Martinez if they knew he had been put  up to it by Gimenez.
Another source told Ladra the push poll also asked voters if it changed their mind if they knew Martinez gave $9 million in district taxes to other areas, awarded pay raises to unions and only wanted the position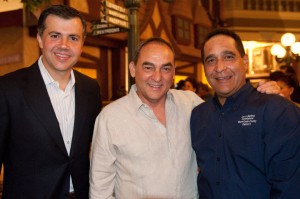 because he needs the paycheck.
Not so, Martinez said.
"I don't miss it," he said about serving as commissioner. "But I do care about the direction that the district is going and I think its going in the wrong direction."
And what direction is that, Ladra asked.
"I'm taking in general. I'm talking about the relationship he has with voters. You can't see him. You can't get an appointment," Martinez said about Zapata.
"I'm talking about the way that surreptitiously the name was changed on the library and the police station without public input," Martinez said about the West End branding initiative. "It's a move to incorporate… and to make such a big move, you have to talk to everybody."
Martinez — who might also be mad at Zap for supporting Gimenez in 2012 — said that Zapata has been hell bent on incorporation since he was a state rep in Tallahassee and Martinez was the district commissioner. "He would always talk to me about it," Martinez mentioned.
Read related story: Does Zapata still have Martinez's nod? Depends who you ask
He said he'll make the decision about whether to run or not in May.
Zapata did not return calls for comment. He's expressed a real distaste for county politics in the past, threatening not to run for re-election.
But he's also been quite active lately with a call for a moratorium on development in West Dade (more on that later) and a call to reform the lifetime insurance benefits still paid for past commissioners (more on that later). Just seems like a swipe at Martinez without having to name him.
Zapata, who led a overthrow of the mayor's veto two years ago, was the sole no vote to the mayor's $49 million bailout of the science museum last week.
Martinez said he would vote the same way. "But not to spite the mayor."
Hmmmmm.