Juan Zapata's last meeting items: 'smart growth' zoning, ATVs
Posted by Admin on Nov 15, 2016 | 0 comments
A zoning amendment that holds down development in suburban West Kendall neighborhoods could be the swan song for Miami-Dade Commissioner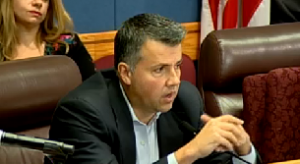 Juan Zapata at Tuesday's county commission meeting — his last, unless they don't get through the agenda and meet again Thursday (but they should). 
Zapata, who withdrew his candidacy for re-election after his name was already on the August ballot, is also sponsoring a measure to increase lighting along Southwest 157th Avenue and urge the legislature to allow the county to regulate and enforce rules on all-terrain vehicles, which, ironically, you can find on 157th on the weekends.
The mostly three-wheeled vehicles are used often in the District 11 reaches of West Kendall and South Dade, which is why Commissioner Daniella Levine-Cava is co-sponsor of that item.
"ATVs are often driven recklessly and are especially adept at evading an eluding law enforcement vehicles," the resolution states. "Reckless and dangerous ATV use is negatively affecting multiple areas of Miami-Dade County."
Zapata will also be asking Mayor Carlos Gimenez to negotiate double lighting along parts of Southwest 157th Avenue, but his swan song is probably the zoning amendment. The commissioner, who in May called for a moratorium on development until traffic woes were addressed, wants to encourage better aesthetics and "smart growth" through varied lot sizes, increased buffers between residential and commercial zoning and maximum landscape coverage in what amounts to a majority of the district.
Read related story: Chased out: Juan Zapata leaves hostile work environment
It's also interesting to note that he is not co-sponsoring any of several other resolutions urging the congress or the state legislature to do this or that — from funding for fertility services for wounded veterans, restricting terrorists from getting firearms or opposing revisions to the state retirement system — which have a clusterbunch of commissioners sponsoring each.
Zap will also be making the final allocations from his district account in what does not, surprisingly — or unsurprisingly, because it is "El Zoro" Zapata after all — look like a fire sale. Live Like Bella gets $2,500, Our Kids of Miami-Dade/Monroe gets $2,000, Baptist Health Foundation gets $1,000 and another $1,100 in district expenses from movie night to a police station fundraiser to events at area elementary schools.
Despite all the hand-wringing about the Harvard class that Zapata eventually paid for himself, Ladra will bet that a final accounting of his district funds finds savings and a surplus left over.
We will miss him. 
Former commissioner Joe Martinez, who was elected after Zapata dropped out, will be sworn in Nov. 22.