Miami congressional caucus shifts support to Marco Rubio
Posted by Admin on Feb 22, 2016 | 0 comments
Three Miami congress members will basically eat crow today when they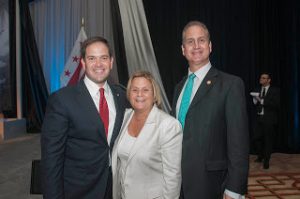 formally endorse Sen. Marco Rubio in the GOP presidential primary.
Marquito wasn't their first choice. But U.S. Reps. Carlos Curbelo, Mario Diaz-Balart and Ileana Ros-Lehtinen suddenly find themselves without a candidate in the race, since their loser pick, former Gov. Jeb Bush, withdrew Saturday after coming in fourth in South Carolina.
Ladra understands that they don't want to be shut out of the White House should the universe align and Rubio pull an impossible feat by winning not only the nomination and then the presidency over Hillary Clinton. But just how valuable is this runner-up nod? Not much.
Read related story: Gloves are off in Jeb Bush vs Marco Rubio primary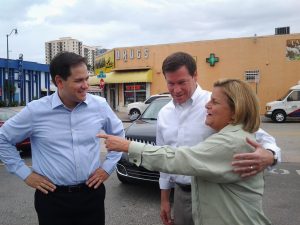 Nobody is going to forget what Ileana said months ago — that Rubio ought to wait his turn. That he wasn't mature enough yet. What's she going to say now to get back on Rubio's good side? That it's his turn now? Boy, he grew up a lot in 48 hours.
She told Michael Putney on WPLG Local 10s's This Week in South Florida Sunday that "This Week in South Florida," Ros-Lehtinen said "we know and love Marco. We never said one negative word about Marco."
What is Diaz-Balart going to say? He said months ago that  he was "all in" with Jeb. "I don't think there's anybody more prepared to be president than Jeb Bush," he told The Hill. 
Now he's going to say there's nobody more prepared than Rubio? Or is Marco just the next best prepared? Could he be saying the same thing about Texas Sen. Ted Cruz next month?
Read related story: Presidential absentee ballots drop today to 157,000+ voters
Yes, he could. Because this is how it is in party politics, people. 
This sudden Rubio love — an official endorsement at a joint press conference is expected Monday afternoon — is going to be hardest for Curbelo to swallow. He and Rubio have had a longtime feud, rooted in the day Marco beat him for the local party chairmanship and solidified with Curbelo's giddy backing of Charlie Crist for Senator against his Cuban-American hermano.
What about Jeb? Everyone wants to know if he's going to throw his weight behind his onetime protege. And how is that going to sound after he's attacked Rubio on the campaign trail and in debates? Suddenly the no-show votes and abandoning ship on his immigration reform aren't all that important?
Bush may have hinted at a coming Rubio endorsement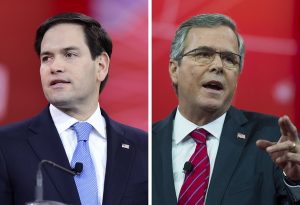 with his concession speech Saturday, which sounded a little like the Senator's stump speech.
"Over the last seven years, our nation's bright light has become little more than a flicker. We have retreated from the world stage. The American values that have brought peace and opportunity are fading. That is not the America we know and love," Bush said.
"America is a country that thinks big, acts boldly and leads without apology. It will be up to the next president to restore that kind of leadership."
Then again, maybe he's talking about Donald Trump.