Miami Lakes voters say 'yes' 10 times, and cut mayor's power
Posted by Admin on May 19, 2016 | 0 comments
Miami Lakes voters were in a giving mood this week, saying yes to and overwhelmingly passing every single one of the 10 charter amendments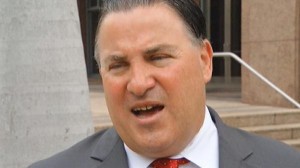 proposed to them — most of which take powers away from the mayor, making it a mostly ceremonial position.
They also made Mayor Michael Pizzi's re-election pretty much a pipe dream.
The most important of the amendments forces a runoff for the mayor's or any council seat should nobody get 50 percent plus one vote in the first round. Pizzi faces at least three serious challengers in November. Two of them are Council Members Manny Cid and Ceasar Mestre and the other is founding Mayor Wayne Slaton, who Pizzi handily beat mano-a-mano in 2012. It is unlikely that the embattled incumbent, who was arrested on bribery charges since his last time on the ballot, would get 50% in that field.
Read related story: Miami Lakes: Manny Cid becomes #3 to file for mayor
He'd be forced into a runoff, most likely against Mestre or Cid, which means he could easily lose his seat. Ladra says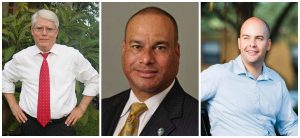 there's a good chance he doesn't even run.
Pizzi did not return a call or email seeking his comment. But the other amendments that passed — with between 59 and 76 percent of the vote — are also aimed at his unique powers or duties.
That was the intent of the charter amendment committee. Chairman David "Doc" Bennett, the mayor's longtime nemesis who has to be proud of himself, said it was bringing the town back in line with its original incorporation mission. The mayor is just one more vote in the Lakes, like each of the council members, Bennett said. There is no strong mayor form of government.
"It's mostly a ceremonial position," he told Ladra. The amendments were meant to clarify some areas where the ceremony apparently became too official.
Read related story: Miami Lakes charter changes aim at mayoral power
One amendment takes the appointment of the town manager and town attorney from the mayor's purview and puts it in the council's. Another gives the council the right to name the town lobbyist (used to be the mayor's job). Any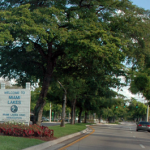 council member who can get three to agree can now call a special meeting, which was something only the mayor could do before. One amendment actually states that the town has a council-manager form of government.
They are so over the mayor in Miami Lakes that they had to put it in writing.
It might have something to do with the series of events set off after the August 2013 arrest of Pizzi on federal bribery charges. He was snared in the same sting that nabbed Sweetwater Mayor Manny Maroño for expediting what they knew were bogus grants in return for thousands in kickbacks. Maroño was sentenced to three years in prison. But Pizzi — or, rather, his quite expensive legal dream team of 17 attorneys — won an acquittal. This despite the testimony that he took a $3,000 bribe from a lobbyist inside an office closet.
After the trial, Pizzi had to sue to get back in office. The city fought his return, but eventually gave up after losing several legal fronts. Then he sued to recoup the legal costs of his criminal case and his civil lawsuit against the town. The whole affair is said to have cost the town about $1 million in legal fees. And Ladra doesn't know if that includes his attorneys' costs or not.
Read related story: Michael Pizzi wins Round 1 vs Miami Lakes for legal costs
But Pizzi's winning streak ended Tuesday when voters rejected his call to vote no to all the amendments.
Pizzi did not return a call for comment. But Bennett said he was "weakened."
"His base didn't come out to vote for him. Or he couldn't convince them," he said.
True dat. Pizzi, or at least a PAC that we all suspect is Pizzi, had sent out a mailer urging voters to reject all the charter amendments.
But he was outdone by none other than former Florida Gov. and U.S. Senator Bob Graham, whose family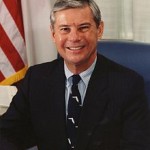 helped found Miami Lakes. Yes, freaking Bob Graham weighed in on the tiny town's amendments by sending his own mailer urging his neighbors to vote yes to all the amendments.
And he honed in on the runoff question.
"The majority vote amendment is by far the most important one to vote YES on because it stands for making sure that your vote COUNTS," the Senator wrote on the mailer. The door hanger had a photo of him older than this one here. "Our mayor and town council should be comprised of individuals that the majority (over 50 percent) of the voters have chosen to represent our beautiful town of Miami Lakes."
And that's how freaking Bob Graham took out Muscles Pizzi.