The 305 votes: A round-up of Election Day news
Posted by Admin on Nov 9, 2016 | 0 comments
Most of us have been preoccupied — perhaps obsessed is a better word — with the presidential or the Miami-Dade mayoral election. But there were a lot of other races that culminated with Tuesday's vote. Here are some highlights:
Sen. Marco Rubio beat Congressman Patrick Murphy back to gain another six years in office.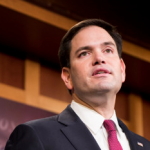 He has said he will serve all six years. And that is probably true — especially now that Donald Trump won the presidency. If he likes it and wants to stay, the Republican Party will have to back The Donald in 2020. So this means we will have to wait until 2024 to have our first Hispanic president. Good thing Marquito is a young man.
Rubio's onetime BFF, former Congressman David Rivera lost his bid to go back to the State House — by 45 votes. Isn't that close enough for a mandatory recount? His 49% showing is much better than he fared in his bid to get back into Congress in 2012, where he lost the primary with just 8 percent in a five-man field (even Joe Martinez beat him).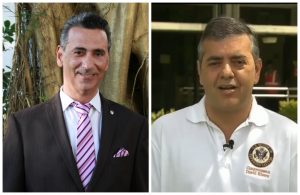 But still, we have a new face in Tallahassee: Robert Asencio, a former Miami-Dade Schools Police lieutenant won one of two House seats that turned blue. Rivera had waged a negative campaign, calling Asencio a child abuser based on a 2003 complaint from the mother of a student who was physically pulled off a bus for acting inappropriately. The investigation was closed without any findings.
Read related story: 'Child abuser' allegations in House 118 race ring hollow
But 118 is the second of two local House seats that turned blue Tuesday after Democrat Daisy Baez eeked out a victory over Republican John Couriel to replace termed-out State Rep. Erik Fresen (who is rumored to be after J-Rod's new Senate seat). Both of them had run previous campaigns and had the benefit of having some name recognition, despite never holding office. But Baez got just under 51% and a lead of 1,301 votes.
Former Congressman Joe Garcia lost his own bid to get his own seat back, but not as closely. There's a glaringly wide 11-point gap between U.S. Rep. Carlos Curbelo's 52% and Garcia's 41% performance. Ladra suspects that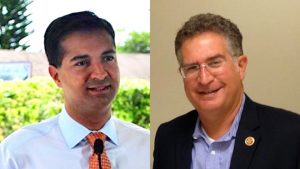 when the numbers are crunched, we'll find a bunch of Democrats who voted for Curbelo because of his liberal ways marriage equality and sea level rise and his early rejection of Donald Trump. And I bet Garcia is rethinking those ads that compared Curbelo to Trump, who is the apparent winner of the big POTUS prize. Anyway, that giant gap in the year that Curbelo would be allegedly vulnerable — because that's it, folks, he is welded into that seat now like IRL — should certainly encourage Garcia to stay in the private sector. Ladra said it long ago. The only person that could have beat Curbelo was Ana Rivas Logan. Too bad she decided to run for state senate. Now we're stuck with him.
Senator Miguel Diaz de la Portilla, a former Miami-Dade Commissioner and flagship of a political dynasty,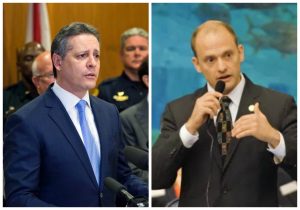 lost a heated battle with State Rep. (now Sen.) Jose Javier Rodriguez, 46 to 49% — and turned the longheld Republican seat (brother Alex Diaz de la Portilla sat there for a decade before DLP took over in 2010) blue. The senior DLP outspent J-Rod more than 2 to 1, which almost proves that it is worth more to knock on 150,000 doors than it is to buy slick commercials that tries in vain to cast a liberal onetime legal aid attorney as beholden to special interests. It's too bad. Miguel DLP was my favorite senator and, while J-Rod will likely be stymied, the incumbent actually did some good as a senior member of the majority party and may have better represented the district. Oh well. Maybe DLP will run for Coral Gables mayor next year.
Ending another political dynasty in the other really heated and mostly negative state senate race — and flipping the seat the other way — State Rep. Frank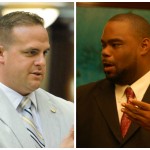 Artiles will move to the other chamber after he beat incumbent Sen. Dwight Bullard, 51% to 41%. Guess all that business about Bullard being a terrorist worked. It's scary to think we may see a resurgence of Artiles' ugly bathroom legislation targeting transgenders. But does this mean he can move back into his Palmetto Bay house? He was forced to move out after Ladra caught him living outside his state House district in 2010.
There will be two runoffs for the mayor's seat in Doral and in Miami Lakes, where none of the candidates were able to garner 50% of the vote.
Read related story: It ain't over in Doral, Miami Lakes with mayoral runoffs
There was a big upset in the Miami-Dade School Board race where Steve Gallon III beat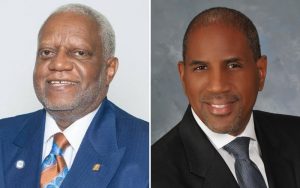 incumbent Wilbert "Tee" Holloway III with a resounding 61%. Gallon got a lot of the community support in a district — which includes Miami Gardens, Carol City and North Miami — where Holloway was cast as an empty suit. And it earned him a 22-point lead Tuesday. The other school board seat went to Gimenez in-law Maria Teresa Rojas, as expected. Not just because she is a longtime teacher and school administrator but also because the voters in that district probably reacted vehemently to a negative campaign in which her challenger was cast as a Fidel Castro sympathizer. Look soon for an announcement of Political Cortadito's expansion into school board coverage.
We can also smoke pot to relieve certain debilitating conditions and chill out about having our own solar energy one day as voters approved the medical marijuana constitutional amendment but rejected the amendment on solar energy choice that would have basically limited our choices and allowed Big Energy to control everything. Voters were not fooled by that one — except in Miami-Dade where we actually had a majority vote yes on this wolf in sheep's clothing (56 to 44%). Shaking my head.
There were also a bunch of questions in municipalities from Homestead to Sunny Isles Beach and we will get to those individually if they warrant it in the next few days. Some notable examples: Voters in Palmetto Bay rejected a proposal to annex a part of West Perrine. In South Miami, they gave the green light for the building of a new City Hall. And, in North Miami Beach, voters approved a slew of charter changes, including term limits and one that makes it easier for the council to fire the city manager. Please feel free to make suggestions/ask questions.
In fact, Ladra has a feeling we will be writing and reading about the results of this ballot for weeks to come.