Three county commissioners coast, but four draw challengers
Posted by Admin on Jun 22, 2016 | 0 comments
The deadline to qualify for any one of the seven Miami-Dade County Commission seats up for election this year ended at noon Tuesday and three commissioners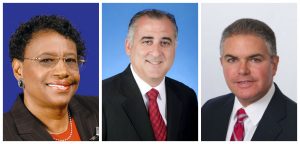 can breath a sigh of relief. Bruno Barreiro, Esteban "Steve" Bovo Jr. and Barbara Jordan are automatically re-elected because nobody dared to run against them.
The three Bs — Barbara, Bruno and Bovo — are getting a free ride.
It was almost four. But Commissioner Xavier Suarez took on a last minute and unexpected challenger when some guy with the unfortunate name of Michael Castro filed Monday. X joins Commissioners Audrey Edmonson, Dennis Moss and Juan Zapata, who had already drawn challengers, all of whom qualified.
Zapata is the only one to face two opponents.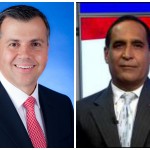 But while Felix Lorenzo filed first, any real challenge is going to be from former County Commission Chairman Joe Martinez, who lost a mayoral and a congressional bid after leaving office in 2012.
There were originally three people filing papers to run against Moss, but only one qualified. Ladra is not sure, however, how much of a threat Earl Beaver is going to be with his unfortunate name and his $1,100 bankroll (compared to $373,500 for Moss).
And Edmonson is being challenged by her old nemesis, former El Portal Mayor Daisy Black. This might be the most entertaining race to watch simply because it is an old rivalry and makes for a rematch of sorts.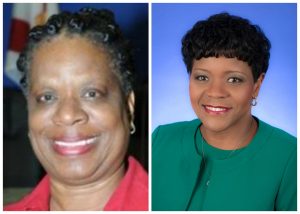 Black, who lost the mayoral race in 2014 to then Councilwoman Claudia Cubillos, has some catching up to do, however. Edmonson has fundraising rainmaker Brian Goldmeier and has almost $400K in her war chest (she had already raised $333,500 before even drawing a challenger). Black has raised a whole $10,000. She's going to have to do better than that. At least get to six figures.
That's all a young taxi cab driver named Jean Monestime needed in 2010 to beat former Commissioner Dorrin Rolle. Now the commission chairman, Monestime raised $106,777 to beat Rolle, who spent more than $388,000.
Rolle became the first incumbent beaten on the commission in like two decades — and maybe that race broke some kind of spell. Because two years ago, we saw a relative nobody build a coalition of support to oust former Commissioner Lynda Bell.
So, chin up Mr. Beaver. There's hope yet.