Will La Gwen's retreat cause more musical chairs?
Posted by Admin on Jun 13, 2016 | 0 comments
Everybody is wondering if the news Thursday that Sen. Gwen Margolis was withdrawing her re-election bid and retiring will cause Andrew Korge to switch seats again to the first one he looked at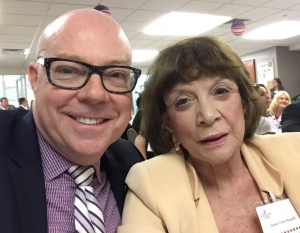 way back before he was a congressional candidate even. Or if it is causing State Rep. David Richardson (D-Miami Beach) to take another look at the Senate run.
Korge, son of Democratic fundraiser and Miami International Airport concessionaire Chris Korge, is currently running against Flores for the Senate seat in District 39 after briefly going after Annette Taddeo in the congressional primary in District 26. But he may go back to his original plan, which was to run for Margolis' seat before she surprised everyone by saying she would stay put for another term.
Margolis is retiring now, under pressure to apologize for her comment (shouldn't she still?) in which she dismissively referred to her challengers as "three Haitians, some teacher and some lawyer."
Read related story: Alex Penelas crowd hosts Andrew Korge's Senate kick-off
Now, Ladra happens to think that statement is generally true. And it doesn't have to be a bad thing to be one of three Haitians in a race. There is no other district in which this happens, so there is obviously a significant Haitian electorate in the district. But we know Margolis meant it as a slight. "That's all they are," was implied. She is not the most sensitive girl. And it seems she hasn't learned much since La Gwen got her nickname from Ladra after a spat with Sen. Miguel Diaz de la Portilla over redistricting. He pushed for her district to change due to changes in racial and language minority demographics. She did not want the change and said that Cubans should not be considered a minority.
"The Cubans came in 1960. Believe me, they can speak English," Margolis said, back then. "They prefer not to, but they do speak English. They went to school in Miami-Dade. Their children go to school in Miami-Dade. They're English-speaking people."
Esa es La Gwen. It's true, but still leaves you a little incredulous. Ah, life and politics was so much easier when there weren't so many Cubans and Haitians around, right?
Insiders say Margolis had intended to retire after this last term because she was older than dirt, not because she was racist. She was expected to endorse Richardson (D-Miami Beach) but that she got cold feet after Korge, whose daddy can raise a lot of money, got into the race. Both withdrew out of respect to the longtime legislator — a former county commissioner who is also the first female elected Senate President.
So why were there a whole five other Democrats running against her —  the three Haitians and the teacher and the lawyer. Most notably among them is State Rep. Daphne Campbell, who may become the immediate front runner among the wannabes, if only for her name recognition, but not because she has more money. That distinction goes to Jason Pizzo, the attorney of the bunch (a former prosecutor turned land use attorney), who has loaned himself $200,000 for the campaign. The group is rounded out by former State Rep. and radio show host Philip Brutus, who has tried four other times to get back in office (State House, Senate, Congress and county commission), teacher Don Festge and the third Haitian, Anis Blemur, who owns and operates a North Miami accounting firm.
Read related story: Doubletake: David Richardson jumps back to House for 2016
But everybody is wondering if either Korge or Richardson will come back to that race now.
Korge is the obvious choice. He's lost some key endorsements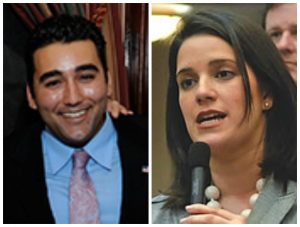 to Flores (more on that later) and she's blowing him away with fundraising (more on that later), so it might make sense to move to an open seat race that is less Hispanic.
Richardson, the first openly-gay representative, might be too comfy in an incumbency where he's popular. Yes, he wants the Senate and there's opportunity here. But if he's still seen as La Gwen's handpicked successor, her Haitian opponents are going to run with that. Who wants a tainted legacy?
Sure, Richardson — who told Ladra in a text message he would have a response after he returned this week from business in D.C. — does have opposition to his re-election. But former Miami Beach Commissioner Deede Weithorn is trailing way behind in fundraising, which leaves her less money to get her message across and her voters out.
Wait a Miami minute! Maybe DeeDe Weithorn will run for that now open Senate seat. Or maybe her husband, Mark Weithorn, who has run unsuccessfully for state House and for city commission. Ladra has also heard that it is a seat Sen. Dwight Bullard could win more easily if he really wants to stay in office, since he's going to lose in the primary now to Ana Rivas Logan if he stays put.
Am I crazy or could even Miami Lakes Mayor Michael Pizzi ditch a sure loss in the town for this more high profile race.
Wait another Miami minute! What about Annette Taddeo? She's never switched mid-stream so maybe that's a winning strategy.
Stay tuned. And let the musical chair melody begin. Because we certainly haven't heard the last of this.