Chalk another loss up for Annette Taddeo.
The former chair of the Miami-Dade Democratic Party, who has lost four elections for public office, lost a fifth race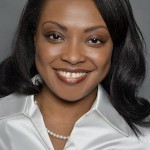 Tuesday night when former North Miami Beach Assistant City Attorney Dotie Joseph was elected vice-chairwoman of the same body by about 200 local Democrats after three hours of hand-wringing in what had become a contentious and curious Dade Dems election.
Dottie who? The immediate past president of the Haitian Lawyers Association with a B.A. in Political Science from Yale University — where she co-founded Yale's Haitian Student Alliance and served as the Political Action Chairperson of the Yale NAACP — beat both Taddeo and this year's chair and former Sen. Dwight Bullard. She's pretty and smart and could have a great future in 305 politics. Ladra smells a state legislator in the making.
Still, that means the same group Taddeo led as chair three years ago rejected what many might assume was her last ditch effort. Maybe she should have never abandoned her position — and a half dozen noname Democrats she had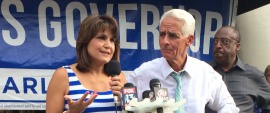 strong-armed to run against incumbent House members in 2014 — mid term to run for lieutenant governor alongside Charlie Crist. Which was before she ran for Congress against Joe Garcia in this year's primary, but after she ran for county commission against Lynda Bell in 2010 and waaaaay after she ran for Congress the first time against Ileana Ros-Lehtinen in 2008.
Tuesday's loss must hurt the most, though. After all, these are her peeps. The true believers. And if even they don't support her, maybe she should hang it up once and for all.
Read related story: Annette Taddeo has not gone gently into the good night
That's what you or I might think, but Taddeo has what looks like an addiction to running for office.
There was a lot of speculation in the week leading up to Tuesday's vote that Taddeo was just running as a stand-in and would step aside to make room for heavy Dem donor and fundraiser Stephen Bittel. But Ladra never believed it. Maybe someone else was going to do that but there is no way that Taddeo would give up any elected office if she were ever to get one. Because it is an addiction. If it were truly a real hankering for public service she would just volunteer somewhere like the rest of us and be done with it.
A friend and fellow political observer speculated that Taddeo has some empty void in her life that she could feel elected office will fill. The saddest thing, as he said last night, is it won't.
And also sad is that there is no 12-step program for perennial candidates addicted to running for office. So, Ladra has come up with some healthy (okay, okay… healthier) alternatives for Taddeo, who needs a new hobby more than she needs un despojo:
Binge watching — You've binged on ballots so try it with something else. This is a great time to catch up on shows you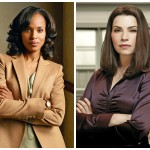 probaly missed while you campaigned for the last 10 or 20 years. House of Cards and Orange is the New Black are only available on Netflix but worth the $9.99 a month, and it's also good for cancelled shows like The Good Wife or Breaking Bad. Current shows On Demand now that are worth a few days of marathon viewing include Scandal, How to Get Away With Murder, Shameless and The Walking Dead. Live vicariously through Olivia Pope or Alicia Florrick.
Scuba diving — This is South Florida, after all. There is a lot to see under the sea. And you should already be used to feeling underwater and dealing with scaly things.
Therapeutic coloring — It's a trending hobby for 2016 and you can now find adult coloring books in every major book store. Ladra has one with mandala patterns and bohemian paisleys and let me tell you, it is very zen.
Theater — Ladra saw those commercials. You have talent, woman! If you can act like a leader, you can try it on stage. Here are some liberal political monologues you can practice that are right up your alley. And I know some local theaters, like Area Stage, hold open auditions a few times a year. Acting is also very therapeutic.
Scrap booking — Now, this is kind of cliche, but think about it: You must have multiple volumes worth of pictures and memorabilia from the different campaigns that will keep you busy at least through the next election cycle.
Coupon cutting — Now, I know you don't necessarily need to save money but I hear it is a real high to go into a grocery store and come out with $2.05 cents more than when you walked in. And you'll finally feel like a winner.
Online poker — Improve your chances of winning something. It's free, with play chips, or it's illegal. And you will lose again. But you are bound to win some, too.
Blogging — Anyone can do it. And while it can be frustrating at times, it also provides you with a healthy avenue to express your outrage at local politicians. Because, you know, you can't just slap 'em in the face like you're Olivia Pope or Alicia Florrick.
And if you can't beat 'em at the polls, beat 'em up online. It's more satisfying than therapeutic coloring.
read more