A number of Florida House seats in the 305 will be vacated by term-limited legislators next year — and already there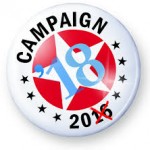 are a bunch of wannabes getting in line to replace 'em.
David Rivera jumped into the race for District 105 last week, which would pit him against Doral Councilwoman Ana Maria Rodriguez, who filed her campaign paperwork in December for the seat vacated by State Rep. Carlos Trujillo.
But that's not the only GOP primary already shaping up for 2018. There are three others.
Read related story: If at first you don't succeed… David Rivera tries again
In District 119, where State Rep. Jeanette Nunez serves now, Republicans Enrique Lopez and Andrew Vargas have already opened up campaign accounts. Lopez has loaned himself $50,000 and raised another $33,240 in February alone. Vargas just filed last month so he has nothing to report. Ladra hears that Commissioner Joe Martinez's daughter may also consider a run there.
In District 116, where Rep. Jose Felix Diaz is getting a time-out, Republicans Jose Mallea and Daniel Anthony Perez have also made their intentions clear. Neither has raised any money yet.
There are three Republicans already raising money for a campaign in District 115, where Rep. Michael Bileca will be termed out: Vance Aloupis, Carlos Gobel and Carmen Sotomayor. Only Sotomayor has reported raising any money, and its $100 at that, having filed in January. Both Alupis and Gobel filed last month and have not had to file any campaign reports yet.
Each of these are already Republican seats and it's curious that no Democrats have yet shown their faces, especially in 105 and 115, both of which are seats where Obama did well.
Instead, we have Republicans dominating the early game, with two GOP challengers filing against two of the three newly-minted, freshman Democrats. Jose Pazos, who abandoned his campaign last year due to his father's health, is going against Rep. Daisy Baez in 114 and Rosy Palomino, who lost last year against Nicholas Duran in 112 (53-47%), wants a rematch.
You just know someone is going to file against the other freshman Dem, State Rep. Robert Asencio in 118. Give it another month or two.
read more